A complete range of ice cream pasteurizers for making ice cream and sorbet mixes.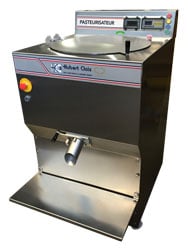 the advantages of our ice cream pasteurizers
The ice pasteurizers Hubert Cloix are simple and robust machines designed to support ice cream artisans many years in their daily lives.
From ice mix to sorbet syrup, yogurt and custard, a wide range of recipes is available to cover all your production needs in the ice cream laboratory.
A minimalist interface to get to the point.
The rapid stirrer is removable and goes directly to the sink.
A tank without small corners for easy cleaning.
| Reference | Useful Literature | Cycle time | Width | Depth | Height | Weight | Food |
| --- | --- | --- | --- | --- | --- | --- | --- |
| PR-15 | 14 l | 1h15 | 460 mm | 660 mm | 1010 mm | 85 kg | SINGLE 230V |
| PR-30 | 26 l | 1h40 | 590 mm | 840 mm | 1140 mm | 135 kg | TRI + N 400 V |
| PR-60 | 55 l | 1h45 | 670 mm | 840 mm | 1140 mm | 180 kg | TRI + N 400 V |
| PR-120 | 110 l | 2h00 | 730 mm | 850 mm | 1190 mm | 270kg | TRI + N 400 V |
| PR-240 | 220 l | 2h30 | 1030 mm | 1030 mm | 1180 mm | 380 kg | TRI + N 400 V |
Presentation
The ice pasteurizers Hubert Cloix are manufactured in France, in Saint Maur des Fossés, in the Paris region. They benefit from the latest technological advances, a advanced ergonomicsas well as a robustness difficult to equal.
The pasteurizers of the brand Hubert Cloix mix, emulsify, heat up, pasteurize, cool and ripen all your mix and syrups.
Ice maturation tank : Maturation is an essential step for the smoothness of the texture and the development of the flavors of your ice creams. our ice pasteurizers integrate this series function.
Benefits
Programming
Option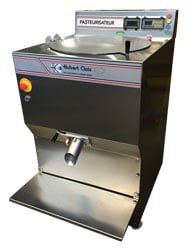 "Robust, sturdy machine that repairs well, intuitive, simple to use"
"The Hubert Cloix 240-liter pasteurizer is an efficient machine, the heating and cooling cycle is rapid. With this machine we have multiplied our production of fruit syrup by 2 or even 3"
"We are very happy with the Hubert Cloix equipment. We've been working with you for 24 years. The machines serve 220 days, 24 hours a day. The technical service is also very responsive and adapts to complaints. Without Hubert Cloix production could not follow »
"My pasteurizer is efficient and the cycle is fast. My ice mixes are exactly as I want them with a super texture. The pod holder is great for innovating and inventing recipes. The pasteurizer matures automatically at the end of the pasteurization is very practical "
REQUEST FOR DOCUMENTATION AND QUOTE
ARTISANAL ice cream making process
Pasteurizer with ice cream
Proposed Liters:
15, 30, 60, 120 and 240 liters
You are a glacier craftsman, for an baker - confectioner, for an caterer, for an restaurateur ? You are looking for a Used Hubert Cloix ice pasteurizer ?
We have been manufacturing all our machines ourselves in Saint Maur des Fossés, in the Paris region, since 1973.
From time to time, we recover from used equipment of our manufacture.
These machines, including pastocookers, are tested and controlled by us. The wearing parts are systematically changed, and in case of doubt we replace the part.
This allows you to purchase a ice cream pasteurizer Cheap with the guarantees of a French manufacturer close to you.
Do not hesitate to visit our page "Our used machines" , to contact us by mail or directly by phone for any question relating to:
a new or used professional ice cream maker
a new or used pasteurizer
When you want to have an ice cream, the names and names are numerous, but the result is often there.
Ice cream, granita, vanilla ice cream, natural ice cream, quality ice cream, eskimos, chocolate ice cream, good ice cream, yogurt ice cream or strawberry ice cream.
Whatever the appellation, the most important thing is to feast the taste buds!